LOCATION
The college which is located at Gwalior is on Delhi Bombay railway line. It is connected by Rail, Road and Air. It takes 3 Hours and 35 Minutes to reach Gwalior by train from Delhi. The railway station is 4 Km away while G.R. Medical College is just 3.8 Km away from the college campus.
CAMPUS

It is situated at the foothills of Gwalior Fort amidst lush greenery providing serene atmosphere for learning and assimilation.
CAMPUS FACILITIES
Class Room
All class rooms and lecture theaters are equipped with modern teaching aids and provided with comfort and environment for learning and assimilation besides we also have a well equipped seminar hall to conduct seminar, workshop, panel discussion and conferences, symposiums and other educative presentation.
Building
G.N.C. is housed in a beautifully designed and constructed building. All classrooms and Lecture halls are equipped with modern teaching aid and provided with comfortable and conducive environment for learning and assimilation according to I.N.C. norms. Separate well furnished and fully equipped rooms for Lectures and Seminars for GNM, B.Sc. (N), P.B. B.Sc. (N) and M.Sc. (N) courses are available.
Transportation
College provides conveyance facilities by buses and mini buses for clinical training/College and other students field work.
Medical Facilities
Facilities for Medical check-up, consultation, diagnostic OPD facility are available in Govt. Hospital. The expenses of Private Hospital special medical tests, treatments for chronic diseases and hospitalization has to be met by the student concerned.
Hostel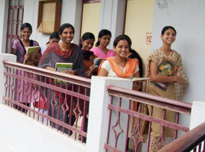 A magnificent Hostel for Nursing students is situated in the mid of the beautiful locality of Gwalior. It has all comfort measures for the students for their studies as well as for their leisure time. Students are expected to follow the rules of the college and Hostel and failure to do so leads to disciplinary action. There is a large recreation Hall and a modern mess with beautiful dining Hall.

The Hostel building is provided with a generator, which is used in case of power failure and for regular hygienic water supply. Arrangement has been made for smart washing of clothes with complete fab-care on payment of Rs. 175/- p.m. and to provide centrally air-cooled ambience on payment of rupees 200/- per month from April to August and also to provide hot water from Gas-Geezer on payment of Rs. 50/- p.m for four months from Nov. to Feb. Yearly Rs. 100/- as installation charges of Gas-Geezer shall be charged from student.

A resident warden who also teaches yoga to our students without any charges supervises the entire management.
Cafeteria
G.N.C. has a cafeteria, which serves wholesome and nutritious food to the students, staff and faculty on no profit basis.
SUPPORTING ELEMENTS
Gwalior, a multi faceted town, rich in culture, has in its pride possession both educational center and industrial township. The township creates an ambience of rich traditions blended with modernity and information technology culture.
The academic interaction can take place at its renowned Institutions like Indian Institute of Information Technology and Management, Indian Institute of Travel and Tourism Management, Indian Institute of Hotel Management, Institute of Health Management, Jiwaji University, Laxmibai National Institute of Physical Education, G.R. Medical College, Madhav Institute of Technology & Science and various other Arts, Science & Engineering Colleges and Schools like Scindia Schools etc.
These Institutes offer multi disciplinary learning facilities. The Academic input is augmented at J.A. Group of Hospitals, G.R. Medical College, Birla Research Centre, Mental Hospital, MARC, Cancer Research Institute, Primary Health Centers and District Hospital. The redeeming feature is that cost of living is well within means.